Eight Young Women (& Non-Binary) Tattoo Artists to Watch
Eight Young Women (& Non-Binary) Tattoo Artists to Watch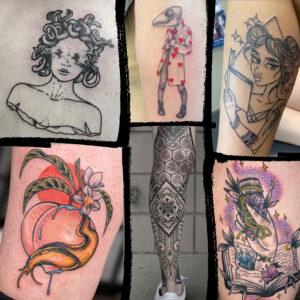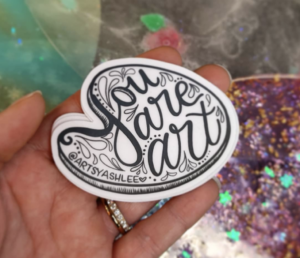 I was lucky enough to interview a handful of trailblazing women who started tattooing in the 1970s, '80s, and early '90s—women with fascinating stories of what it was like to apprentice in the era before YouTube tutorials, bottled ink in 50 different colors, and sketching on iPads. In the days when those women first picked up their machines, tattoo culture was gritty, secretive, and overwhelmingly male.
Today, though, at the buzzing wonderland of the Philadelphia Tattoo Convention, I encountered dozens of women (and nonbinary) artists who are thriving not only as artists but as entrepreneurs.
After spending many years interviewing veteran artists (whom I thank in my novel, and I'll celebrate in another post!), it's my joy to also spotlight some standout artists, some of them studio owners, in the first decade-or-so of their careers.
℘
Philadelphia, PA
SOPHIA CHENG
at Crown & Feather Tattoo
@roastedricetea
How would you describe your style?
Japanese-influenced illustrative. I come from classical art training, with a strong printmaking background and a love for pen and ink illustration. Having that background while studying traditional Japanese tattooing has led to this blended look.
Is there a tattoo you're particularly proud of?
One that stands out is an ukiyo-e Japanese cat that was dancing, for a Japanese American friend from an arts high school. Knowing the person, and working in that style—it was one of the first Japanese-influenced pieces I had done, so I got to take a chance.
What do you love about your work?
It has kept my attention one hundred percent. It teaches you so much, and not just about tattooing—about people. You get to meet so many kinds of people, so intimately.
Anything else you'd like to share?
There's a huge community of women tattooers, particularly women of color, getting boosted right now. I think it's going to be—I don't know if renaissance is the right word, but a boom of representation.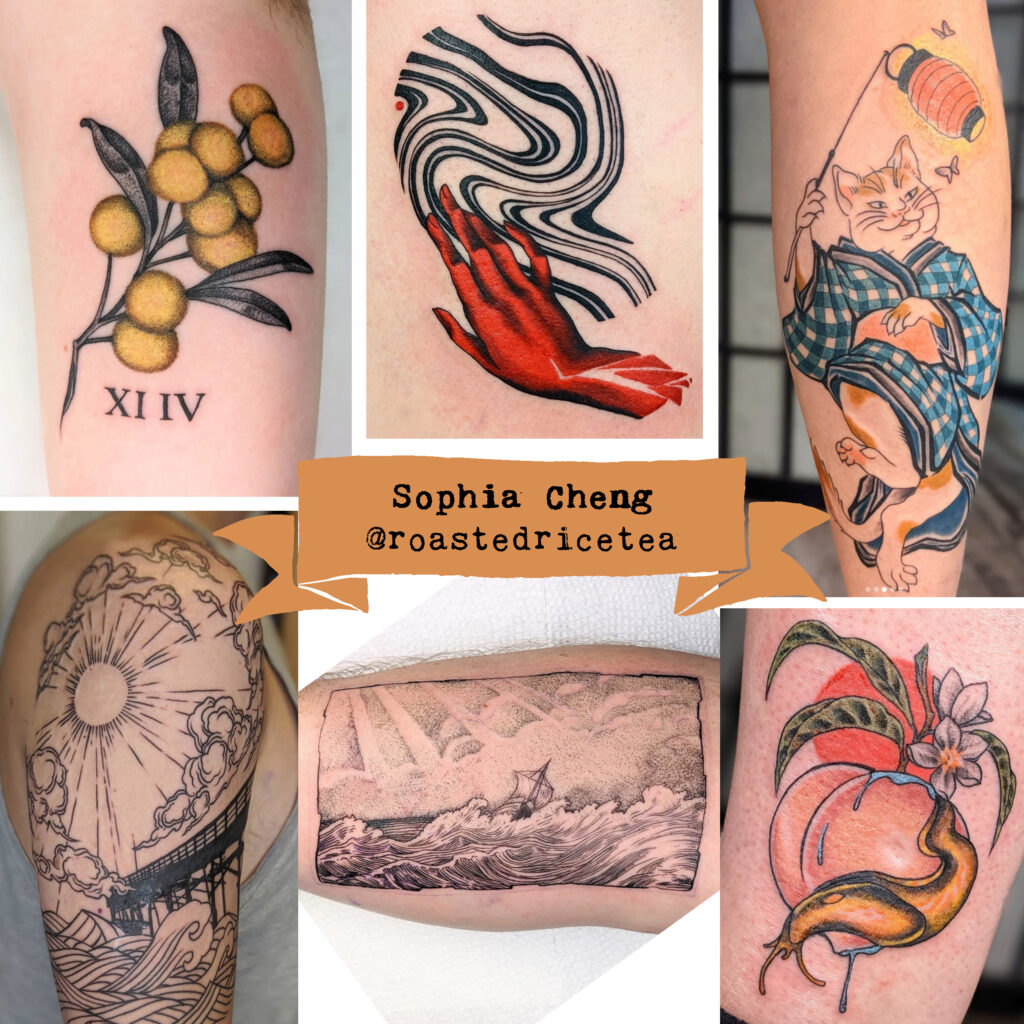 ℘
Brooklyn, NY
KAT HOOPER
(they/she)
at Hades Inquisition
@khoopertattoo
How would you describe your style?
Illustrative with a twist. I do a lot of surreal imagery and really weird tattoos.
…for example?
I did a tattoo based on a detail from that painting… what was it?The Garden of Earthly Delights [by Hieronymous Bosch]. It's a person sticking flowers in another person's butt.
Wow. When you said "based on a painting," I thought you were going to say, like… Starry Night.
I'm also working a sleeve for someone right now of animals caught in panoramic photos, warped and stretched out and too many limbs. I did another one we call the "cowthem"—a nonbinary cowboy.
How long have you been tattooing?
Professionally for about six years, but unprofessionally for longer. I was kind of a little miscreant … I was twelve years old, hanging out a lot at this tattoo shop, drawing their flash, and one day I snuck into their bathroom and tattooed the bottom of my foot. I was a little bit of a wild child.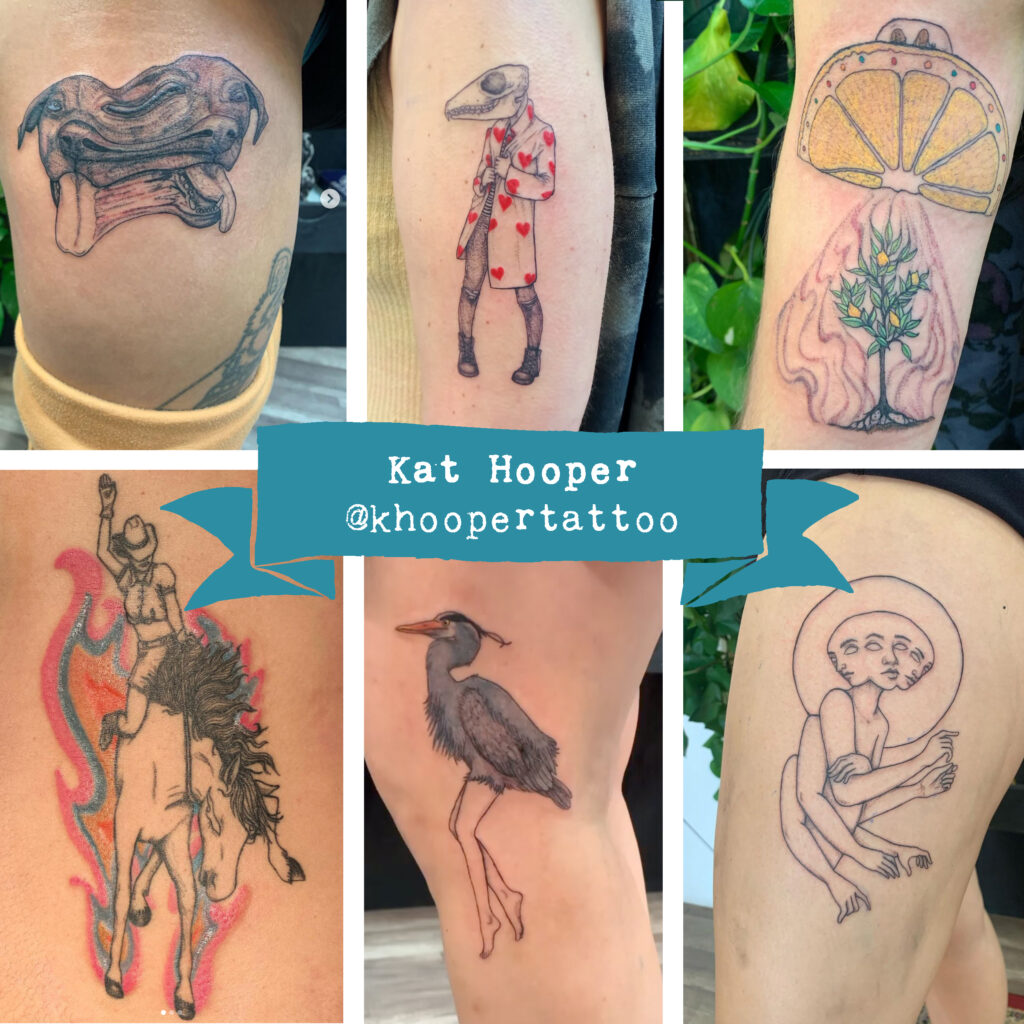 ℘
Detroit, MI area
REBECCA SCHWARTZ
at Ironclad Tattoo Co.
@becsarttattoos
How would you describe your style?
I do a lot of black-and-grey and clean, delicate linework. Florals, soft romantic stuff with geometrics and ornamental elements. I shade with a tight 3 liner, so as I whip it back and forth, it creates this speckled dotwork that is also smooth. Dotwork can be harsh—like, a mag shading can get kind of peppery—and this technique creates really nice transitions and detail.
How did you come to your style?
Oh, years of development. I started out thinking I wanted to do neo-traditional, and fell in love with black-and-grey. I wanted to take that heavy blackwork in a more feminine, delicate direction. Being around really good artists, you grow together.
Is there a tattoo you're particularly proud of?
I'm working on a full body piece for a friend of mine. It started as an under-boob, and then we started moving it around, all down her thigh, and then she said "Let's do it on my back." That piece connects to the front… It's been tons of sessions over the years. "Let's just fill in as much as we can."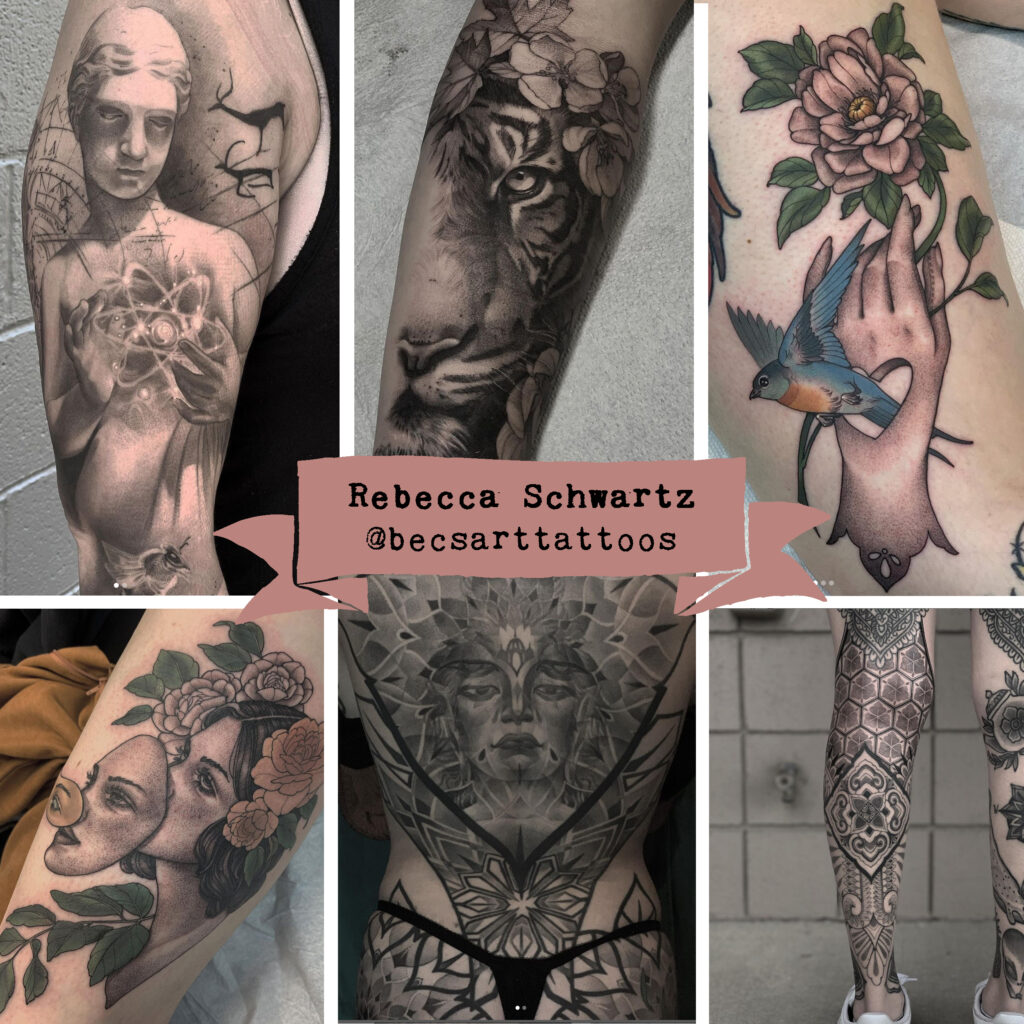 ℘
Baltimore, MD
RIA RABITT
at Ripp'd Canvas
@ria_rabitt
How would you describe your style?
My style is illustrative with neo-traditional elements. Pretty girls, flowers, anything with color… If there's a lot of color, I'm going to love doing it. When I started tattooing about 12 years ago, I really wanted to have a definitive style, but when I stopped worrying about it, it developed organically. Now people see my work and know "She did that."
Is there a tattoo you're particularly proud of?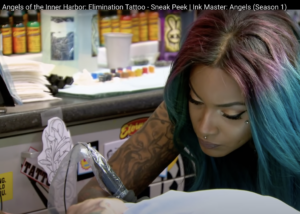 A lot of the tattoos I'm most proud of, even though they're not elaborate, come from the client's stories. As artists, sometimes we take those tattoos for granted, but it's meaningful for them—any tribulations they've survived or difficult moments. There was this one lady—at the Philly Convention, actually, about five years ago—who got a phoenix tattooed on her back.  When I showed her, she started crying, and she hugged me, and said "You have no idea how much you helped me." It was so emotional. Those moments are what make me love what I do.
🌟Fun fact: Ria Rabitt appeared on Season 1 of Ink Master: Angels.

℘
Rochester, NY
Emily Brackett and Katie Laidlaw jointly run Nightshade Studios, a private studio in upstate New York.

EMILY BRACKETT
at Nightshade Studios
@tattoosbypurple
How would you describe your style?
I've always loved American traditional; it's probably the reason I got into tattooing, because it's our roots. And I've always been drawn to witchcraft and inspired by spooky things, as well as botanical stuff—I love to freehand leaves and spiderwebs. So I incorporated all that into this American traditional-style blackwork.
Is there a tattoo you're particularly proud of?
I love doing lady faces! Super intense expressions, high contrast features. I remember a specific one I did that made me feel like an absolute professional—like this is what I was meant to do. I've been tattooing four years, and it's the most fun job I can imagine.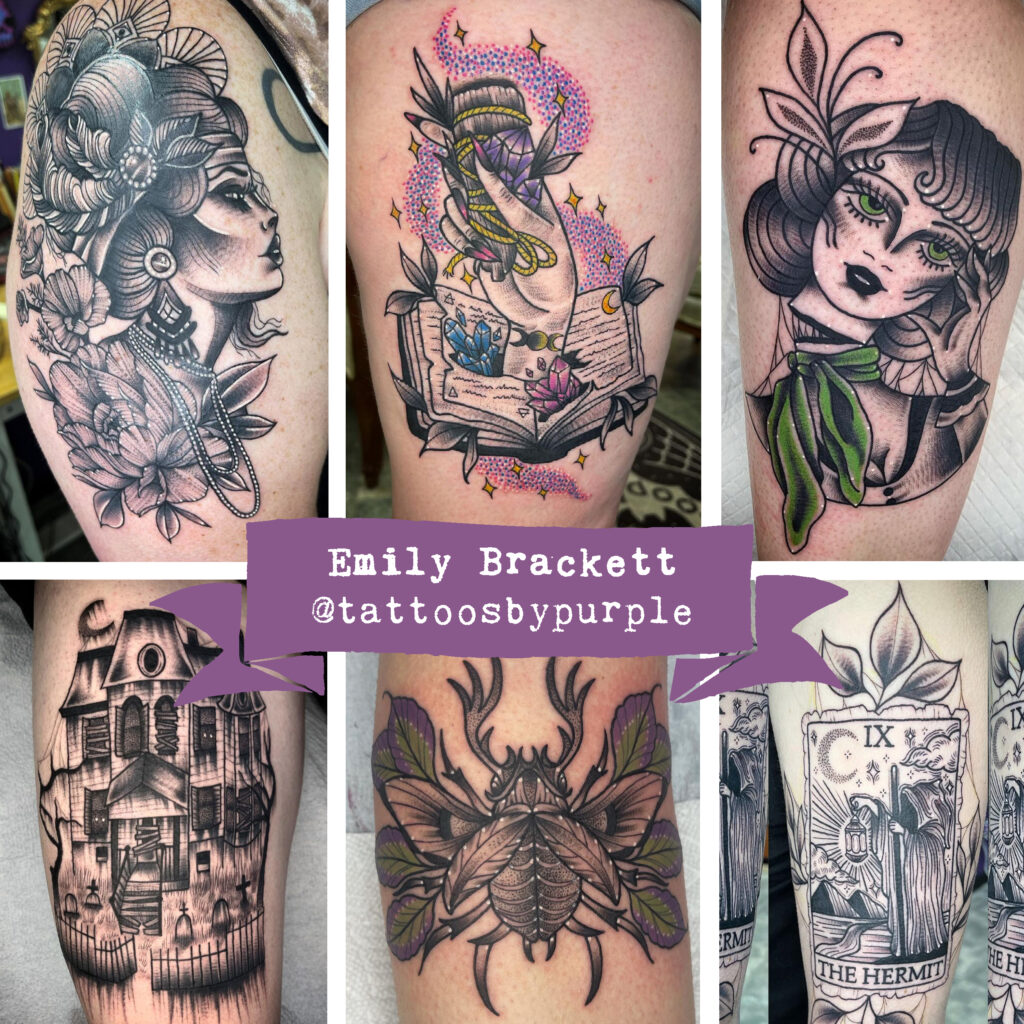 KATIE LAIDLAW
at Nightshade Studios
@kathryn_doodles
How would you describe your style?
I love color. Before I became a tattoo artist, I was a commissioned portrait artist, and I love doing portraits, especially animals. If it's got feathers, fur, or scales, I love tattooing it on people—especially people's pets.
Is there a tattoo you're particularly proud of?
I did one of a man's English bulldog, and he wanted it wearing a Hawaiian shirt. Bucky the English Bulldog. It was a fun piece and he gave me a lot of artistic freedom with it, which is something I always appreciate!
You and Emily run a private studio together?
Yes! In the next two years, we're hoping to expand, hire an assistant, we have merchandise ideas… we've got plans. A lot of plans.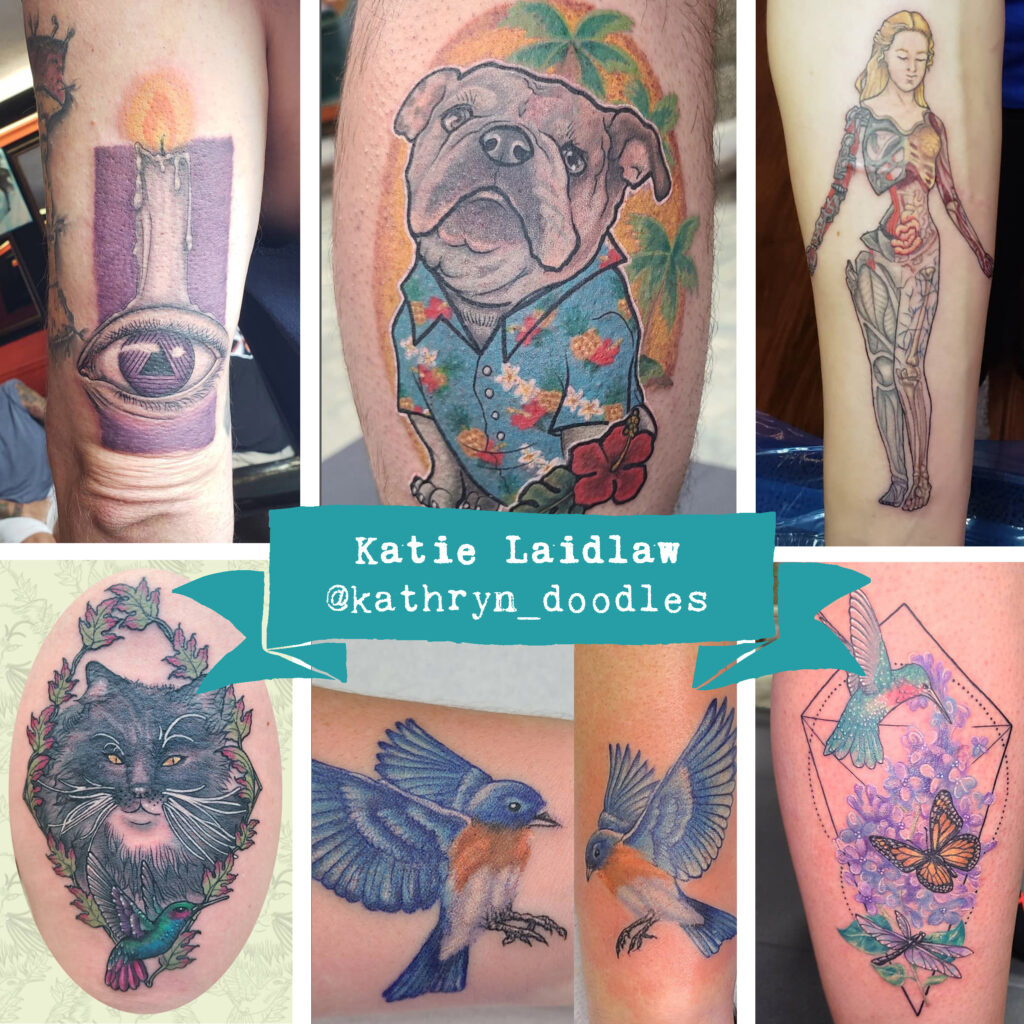 ℘
Staten Island, NY
ARTSY ASHLEE
Owner and artist at Tiger Lily Tattoo, the first Latina/Latinx owned and operated private tattoo studio in Staten Island

What's your favorite style to work in?
Definitely love illustrative tattoos and lettering. I know it isn't everybody's favorite, but I used to be a Trader Joe's sign artist, so lettering took very quickly for me.
How would you describe your take on illustrative?
Like something you'd find in a sketchbook—black-and-grey, loose, unique, original. I'm also getting into neo-traditional work.
Is there a tattoo you're particularly proud of?
There are so many! I'm pretty proud of sunflowers I tattooed on my own leg. I was in a bad space at the time, but I posted it on social media, and that guy over there [points to Justin Cruz, co-owner of Tiger Lily Tattoo] saw it. I became his protégé, and he's now my business partner. We opened mid-pandemic, and we struggled, but we blossomed too—it's been such a blessing. We're so happy and grateful to be in business and be part of the tattoo community.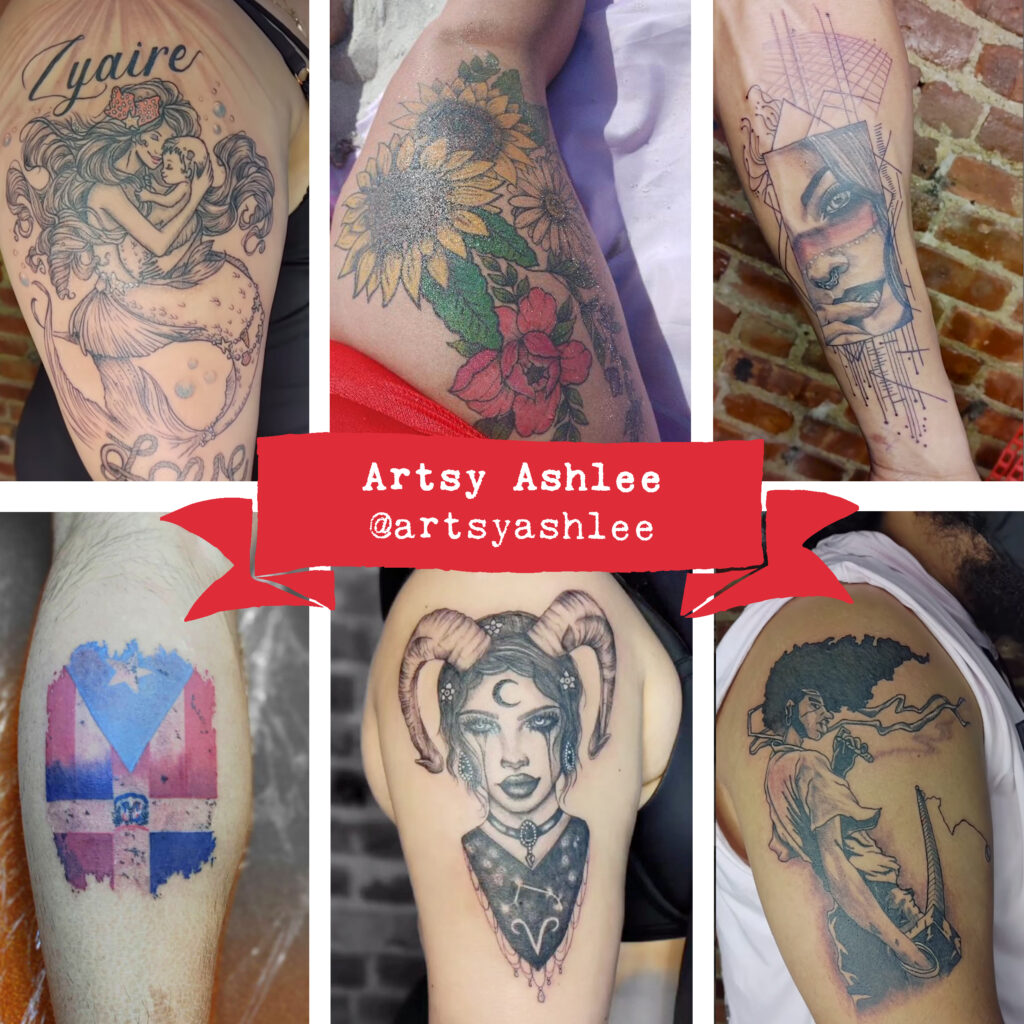 ℘
℘
South Bend, IN
ALYSIN HOPE 
at Bicycle Tattoo & Piercing
@alysinhopetattooer
How would you describe your style?
I specialize in blackwork, stipple-style. A lot of spooky stuff, gory anime, fun dark stuff.
Is there a tattoo you're particularly proud of?
I really like working on larger-scale projects. My partner's got a leg sleeve we've been chipping away at with obscure Dragon Ball Z references that only nerds who have rewatched and screen-shotted everything would know.
What would surprise people about being a tattoo artist?
Before I worked in tattooing, I worked in abortion care, and there's a surprising overlap of people trusting you to work with their bodies. You learn to handle people with care and set boundaries.
That's incredibly beautiful. Both of those are vulnerable moments to be in.
Yeah, and bad bedside manner can really traumatize people. I don't want to be in anyone's business; they'll tell me what they want me to know. I'm super awkward, though. There's a lot of back-and-forth between my clients and me, where they express whatever they want to me, and I'm like… "Well, cool. I'm here to make you look neat."
This is really striking a chord. I am also awkward. My novel is about an awkward tattoo artist. 
Well, perfect!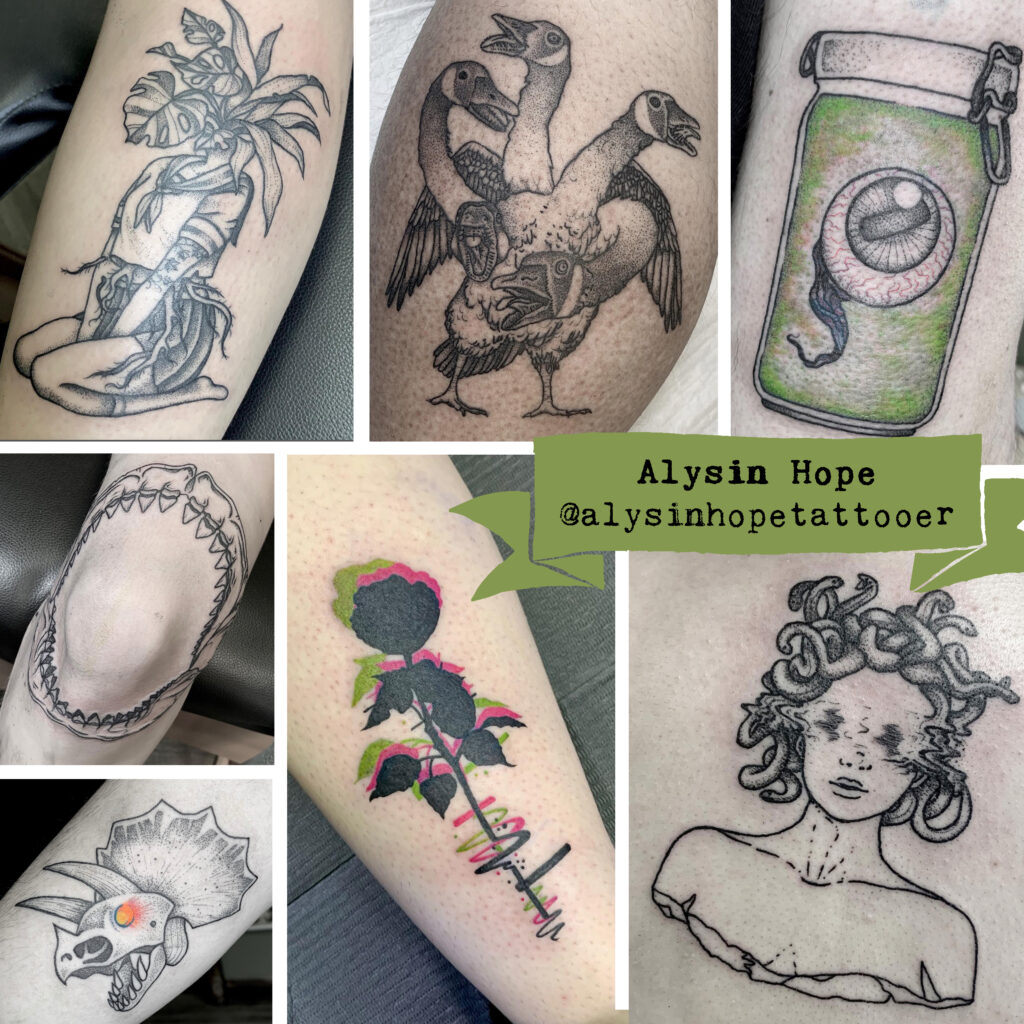 ℘
June Gervais's debut novel Jobs for Girls with Artistic Flair is forthcoming from Pamela Dorman Books/ Viking Penguin, June 2022.  In the words of Laurie Frankel (New York Times bestselling author of This Is How It Always Is): "As if a queer, feminist, 80s coming-of-age novel weren't enough, Jobs for Girls With Artistic Flair also introduces us to a host of interesting characters in all the shades of gray, a gathering storm of family drama, and a burgeoning tattoo scene I knew nothing about and was delighted to be (pun intended) drawn into." Learn more at penguinrandomhouse.com.