Beg, Steal or Borrow (Song Series #19)
Beg, Steal or Borrow (Song Series #19)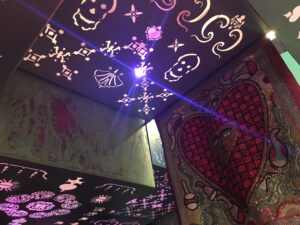 These are the last days of summer,
whatever the schoolbuses, candle stores, and Pumpkin Ales may tell you. Don't be rushed by the makers of seasonal markers: This is the liminal space of crickets and figs ripening. The ripening, too, of summer musings into autumn doings. Interesting things happen in middle-times.
The moments in these pictures, for example. We traveled this summer, and a cancelled flight left us stranded in Ft. Lauderdale for two days. In that middle-time between Expected Homecoming and Actual Homecoming, we stumbled the most beautiful children's museum I've ever seen—a feast of beauty at a moment when I'd just gotten some bad news, and needed it. (Pssst—If you like quirky sermons, I've spoken elsewhere about beauty as a response to suffering. If you like literature better than sermons, I've lectured about it too. It's a subject close to my heart.)
Liminal spaces are an acquired taste, but for the past few years I've been practicing yielding to them. It's a practice I recommend—letting your eyes adjust to the dim light. Seeing things you might've breezed right by if everything went according to plan, or if seasons snapped from one thing straight into the next.
So. Summer-fall. The other night (oh Lord, a school night) my husband and I were staying up a little too late, as you do in summer sometimes: barefoot, red wine, listening to music. This Ray Lamontagne song came on. I said to Rob: "That one could be pretty sexy." He learned it for me by the very next day, and we stayed up late again, playing it.
Beg, Steal or Borrow
Written by Ray Lamontagne
Vocals: Jen Hinst-White
Guitar: Rob Hinst
Young man, full of big plans and thinking about tomorrow
Young man, going to make a stand
You beg, steal, you borrow
—Ray Lamontagne