Jobs for Girls with Artistic Flair is now available
at your local bookstore, at Bookshop.org, and all the usual big guys.
It's also an audiobook from Penguin Random House Audio, narrated by award-winning voice actor Jesse Vilinsky.
If you're interested in having me speak with your book club, high school or college class, or speak at an event, email june.gervais.writer@gmail.com.
Recent Press & Reviews

"The inner world of a sketchbook doodler is an expansive one, brought to life on these pages. The locale this novel inhabits is also rendered with the aching perfection of memories of a Long Island upbringing."

"With prose that straddles gentle and gritty — the kind that makes a writer say, 'Damn, I wish I wrote that' — Ms. Gervais blurs the line between literary and commercial fiction. This book is easy to fall into, hard to put down, and satisfying to the end."
Nylon Magazine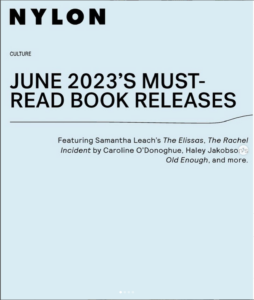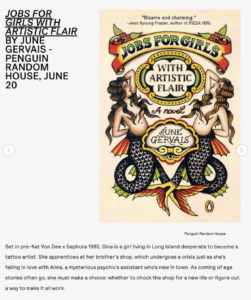 Lit Hub

Paperback Release
Jobs for Girls was recently released paperback from Penguin Books, with a beautiful new mermaid cover from tattoo artist Becca Genné-Bacon of New York City's Kings Ave. Tattoo. Thanks to Becca for signing books with me, author Margot Mifflin for being a brilliant conversation partner, and Lower East Side bookstore P&T Knitwear for providing such a warm and beautiful space!