Quirky Sermons
Quirky Sermons
I deliver a quirky little sermon from time to time, usually from the stage of a non-denominational church on Long Island. Although my relationship with religion (including this church) has become complicated the past few years, I still love creating these talks for people who, like me, are seeking to love better in this fractured world.
I preach about serious things, with detours into sea creatures and eccentric occupations. But I usually crack up laughing at some point, because it's true that life often hurts, but life is also very funny.
Just so you know: I've never gone to seminary; I'm a skeptic by temperament; my education consists of a BA and MFA in Writing & Literature. But if you're curious how a non-religiously-raised writer ended up preaching oddball sermons, see the bottom of this post.
All these videos start with the band, so you'll have to skip forward a bit to find the sermon…

Thoughts on how to keep our spirits alive. The deep need for 1) rest and 2) compassionate action. A critique of the winner/loser paradigm that's been rampant the past few years–and a healthy alternative.
Also: Humiliation by lipstick, starting a fire onstage, and the legendary cage fight between Insulin and Glucagon.
52 words from Psalm 52 that I use to get grounded when life is coming unhinged.
Also: Things you never knew about Cap'n Crunch.
Some thoughts about lamentation: the passionate expression of grief. How to listen to it, how to do it, and how it can change the world.
Also: My "Grunge Lyric or Bible Verse?" game; flannel shirts and distortion pedals; tap-dancing bumblebee girls; Terrible, Thanks for Asking; and the marvelous word splagchnizomai! σπλαγχνίζομαι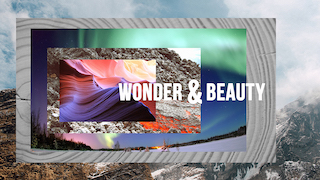 Part One: A sermon about God's presence in our times of suffering often arrives in the form of wonder and beauty.
Also: Whale hearts, peacock mantis shrimp, morbid rumination, and the book of Job.
Part Two: A sermon about how we can be present to others in their suffering through small acts of beauty.
Also: Eric the Flying Man, tiny beautiful things, and the story of The Killing Machine vs. Chanel #5.

A sermon about not taking the Bible out of context, and the dubious practice of calling oneself #blessed.
Also: The Devil's Own Page-A-Day Calendar, psychiatric units, bacon, BMWs and Beatitudes.
The sermon is several minutes in, after the band, so you'll have to skip ahead.

A sermon about being a house, and the ancient practice of confession.
Also: Genetic improbability, sperm, Grandma's house, exhilarating possibilities, beach houses.
The sermon is several minutes in, after the band, so you'll have to skip ahead.

A sermon about God's maternal side (and how to stop judging yourself as a mom or a human being of any kind).
Also: A college with no grades and an unfinished cathedral in Bermuda.
The sermon is several minutes in, after the band, so you'll have to skip ahead.

A sermon about not hitting the snooze button on love. 
Also: A weird coincidence with a Beatles song, slacker bridesmaids at Ikea…and one sentence on caring about refugees that got some people's panties in a bundle.
The sermon is several minutes in, after the band, so you'll have to skip ahead.

A sermon about the conundrums and possibilities of desire. Including an exercise to make a quick map of your own desires–and how they might become a place where you encounter God.
Also: How I got seduced in the grocery store aisle, Knicks announcer Walt Clyde Frazier, citrus-scented body wash and semi-automatic weapons.
The sermon is 19 minutes in, after the band.
A sermon about being a work in progress.
Especially for: Weirdos like me who are skeptics by nature but intrigued by the Gospels. Anybody whose faith is never going to look like a nice, tidy suburban lawn. Christians freaked out by their own doubts. (Don't freak out.)
Also: The toilet that showed up in my yard; the theological implications of flipping the bird; Jesus' skeptical streak; the embarrassing truth that I can't grow grass for crap.
The sermon is 23 minutes in, after a musical set by the Brothers McClurg and Ian Zumback.

A sermon about the classic monster movie, and the hidden motives that lurk in the depths of us.
Sermon is 16:11 minutes into the video.
A sermon about what to do when your marriage is dead, and where to go from there.
Also: Tennessee, Pop-pop is a Samurai, the third way, sermons that terrified me to deliver because who the %$& am I to talk about your marriage?
The sermon is several minutes in, after the band, so you'll have to skip ahead.

A sermon about the fascinating literary form of parables, and how to let go of things that don't fit.
Also: Puerto Rican rainforest, scratch-off lottery tickets, alternate dimensions, animal carcasses, funny adjectives for wine.
The sermon is several minutes in, after the band, so you'll have to skip ahead.
A sermon about how to go about hearing the voice of an invisible and often inaudible God, and the necessary practice of creating empty spaces in our lives.
Also: Tattoo artists, the role of women, Spotify playlists, WNYC's Bored and Brilliant project, and a life hack discovered by a 17th century monk.
A sermon about God as the divine Lover in pursuit, plus the wild and social-change-inducing role of Biblical prophets.
Also: This one's just audio, and you need to know that it begins with a 6'3″, very hairy-chested man in a ruffled, fruit-decked Carmen Miranda outfit walking out and handing me a mango and a love note.
My very first sermon, given at seven months pregnant, around Christmas of 2013. I talk about the fine print that churches often put on their doors, and my own journey from a completely nonreligious upbringing to a strangely wonderful new life of attempting to follow Jesus.
Also: Doors, fine print, Mary, Magi, sweat and sheep manure, grand invitations.
The sermon is several minutes in, after the band, so skip ahead until you see a pregnant lady.
*        *        *
If you're curious how all this came about:
Who am I to preach? Yeah, agreed. I was raised in a completely nonreligious house, went to an artsy secular college, and had a long journey of seeking that eventually brought me to this life of attempting to follow Jesus.
How did I end up preaching, given that I never went to seminary? I did take the Episcopal Church's Education for Ministry course and learned a ton about sermon-crafting through the example of Bert Crabbe, lead pastor of True North Community Church, and Rob Bell's Poets, Prophets and Preachers series. But mostly I just read the Bible for years on end with deep fascination, and I like to nerd out seeking cultural/historical background and other people's thinking on it; and through my MFA in Writing program, I realized I love to teach.
Why do I call these quirky sermons? My outsider eyes/nonreligious background/progressive/artsy/social justice roots often bleed through, and I'm drawn to the wonderfully weird (see subtitles above), and that is why I warn people these are Quirky Sermons. But giving them is one of the things that makes me most come alive, every time, and I still can't believe that they let me do it.