pears and milk
pears and milk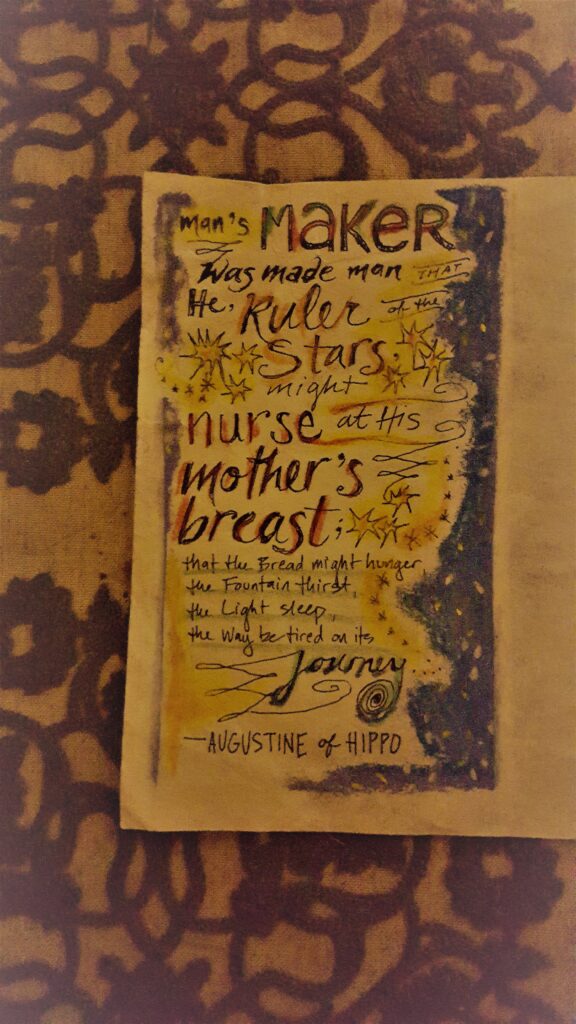 Milo is asking about God.
He's two and a half now. He orders me to "say pears" at bedtime when I forget. Saying pears sounds like a beautiful practice to me. To name a pear and then another pear: Limonera, Bosc, Bartlett, Anjou. Or in Latin, maybe, a Mass of pears: Pyrus nivalis, pyrus syriaca, pyrus sacrifolia… As it is, our bedtime prayers are rather repetitive. Charlie, my six-year-old, requires me to pray every night that God "keep away all the poisonous snakes and spiders and dangerous animals."
So I think Milo must have picked up the name of God from my saying of the pears. And he keeps asking, "Where is she?"
He just assumes she's a She. One of his first questions about God was "Does she have milk?" He sees drawings of angels and asks "Does she have milk?" I think nursing must have been the best time in his life, because we stopped when he was 14 months old and he's still reminiscing.
I told him that God is everywhere, but we can't see God. God is in the ocean and the air and in us and in this room. But he keeps trying to identify God with a face, a voice. Listening to NPR in the car, hearing a commentator: "Is that God?" Recently we had Pandora playing on the TV, and a song by Brenda Lee came on, and he pointed to her face and said "Is that God?" Sitting on the couch yesterday, without provocation, he asked, "Is Stephanie God?" "No," I said. "She's your godmother."
It being Advent, I was looking for quotes on the Incarnation, and found these words from Augustine of Hippo, and of course I thought of my toddler son:
"Man's Maker was made man that He, the Ruler of the stars, might nurse at his mother's breast; that the Bread might hunger, the Fountain thirst, the Light sleep, the Way be tired on its journey…"
St. Augustine might not have agreed with Milo that God is female, but at least they agree that God is a fan of breast milk.
Although… the prophet Isaiah does render the speech of the Divine in the voice of the ultimate nursing mother.
"Can a woman forget her nursing child, or lack compassion for the child of her womb? Even if these forget, yet I will not forget you…" —Isaiah 49:15